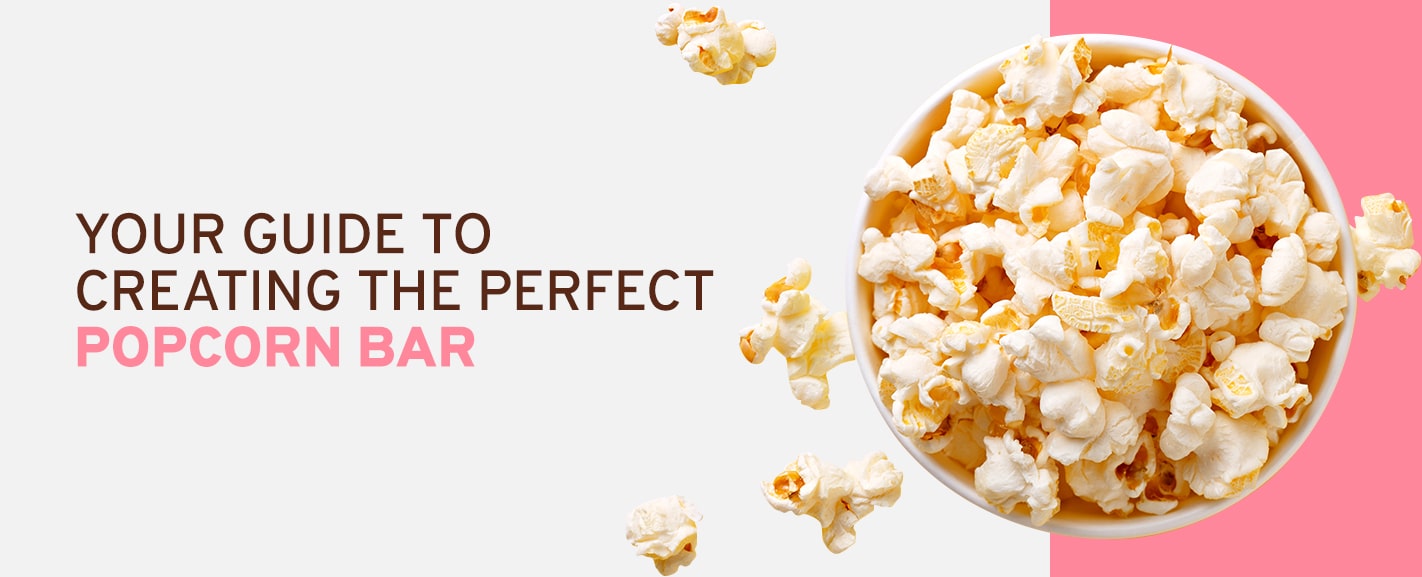 Your Guide to Creating the Perfect Popcorn Bar

DIY bars are a hot party trend because they're delicious, convenient and creative. If you want to give your guests a playground of flavor combinations, set up a gourmet popcorn bar at your event. Setting up a popcorn bar is affordable and requires minimal food prep, so you can focus on planning other party details.
This guide will tell you how to wow your party guests with the ultimate popcorn bar. Check out the unique gourmet popcorn bar ideas below to throw an event your guests will be talking about for years.
Popcorn Bar Flavor Variations
The first step to setting up your gourmet popcorn bar is choosing your popcorn flavors. The flavors you choose will determine whether your popcorn bar is sweet or savory. Of course, you can always do a combination sweet/savory popcorn bar, allowing guests to create quirky popcorn combinations.
Here are the popcorn types to consider for your bar.
Unsalted:

 

The beauty of unsalted popcorn is that it's a blank canvas — your guests can jazz it up with whatever sweet or savory toppings they want.

Salted:

 

Though it might seem like salted popcorn only has a home on savory bars, salted popcorn can also be a great addition to a sweet bar to create a flavor like

 

dark chocolate sea salt

 

or

 

salted caramel.

Salt and vinegar:

 

Lead your guests in a savory direction with

 

salt-and-vinegar popcorn

 

that's easy to add tons of tasty toppings to.

Buttered:

Buttered popcorn

 

is a versatile option that will give your popcorn bar that classic movie theater vibe. Besides, who can resist the smell of fresh buttered popcorn?

Kettle corn:

 

With its combination of sweet and salty flavors,

 

kettle corn

 

is a must for any sweet/savory gourmet popcorn bar.

Caramel corn:

Sweet caramel corn

 

is essential for building a dessert popcorn bar.

Cheese:

 

Providing

 

cheese popcorn

 

is the perfect way to nudge your guests toward creating a savory popcorn masterpiece. Some people also love mixing the tastes of

 

savory cheddar popcorn

 

and

 

sweet caramel corn.

Popcorn Bar Toppings
Once you've settled on your base popcorn flavors, you can start to get creative with your popcorn bar toppings. You'll want to include toppings that will complement some of your more unique popcorn flavors, and that some people can quickly toss on plain popcorn. To accomplish this goal, you will need various sweet and savory toppings.
Be sure to supply plenty of sweet and savory choices within the following three categories.
1. Stir-Ins
Stir-ins add texture and crunch to a popcorn mix. Set out the following sweet and savory stir-ins to get your guests' creative flavor juices flowing.
Sweet:

 

Dried fruit, chocolate chips, cereal, candies, crushed cookies, mini marshmallows, gummies, sprinkles, etc.

Savory:

 

Nuts, seeds, wasabi peas, pretzels, crushed potato chips, cheese puffs, Chex mix, etc.
2. Shake-Ons
Shake-ons are seasonings and powders guests can sprinkle onto their popcorn to give it a bit of extra flavor. These sweet and savory shake-ons will take your popcorn bar to the next level.
Sweet: 

Hot cocoa powder, cinnamon, brown sugar, powdered sugar, pumpkin pie spice, etc.

Savory:

 

Parmesan cheese, matcha powder, curry powder, wasabi powder, cayenne pepper, taco seasoning, ranch seasoning, herbs, etc.
3. Drizzles
Drizzles give popcorn mixes that extra pizzazz. Let your guests dress up their popcorn with these fun sweet and savory drizzles.
Sweet:

 

Chocolate syrup, caramel sauce, fruit preserves, Nutella, peanut butter, marshmallow fluff, etc.

Savory:

 

Hot sauce, balsamic vinegar, olive oil, truffle olive oil, etc.
Popcorn Bar Decorations
After picking out your popcorn and toppings, you can start decorating your popcorn bar. Follow these five simple steps to create a popcorn bar that looks good enough to eat.
Choose your space: 

Decide where you're going to set up your popcorn bar first, so you know how much surface area you have to work with. Depending on where you choose to place your popcorn bar, you might have a full table to decorate or a smaller section.

Select a theme or style: 

Think of a motif or decorating style that will fit the event you're hosting. For example, you can use decorations featuring characters from the movie you'll be watching or use wooden bowls and chalkboard materials to cultivate a rustic ambiance.

Pick various containers:

 

Because you'll offer several popcorn types, use clear containers to display them so guests can tell which kind they're grabbing. Use smaller containers for your toppings, and incorporate fun shapes or designs that fit your theme.

Make labels:

 

Ensure your guests know what they're scooping by labeling all your popcorn types, stir-ins, shake-ons and drizzles.

Set out bags or bowls: 

Naturally, you will need bags or small bowls on hand for guests to put their popcorn in. If using bags, put out pens or markers so guests can write their names on their popcorn creations.
Best Events for a Popcorn Bar
Whether you're planning a large party or a smaller gathering, your get-together will feel incomplete without a popcorn bar. A popcorn bar is a crowd-pleasing treat that delights guests across various events because it provides enough of a tasty snack without being overly filling.
Here are five of the best opportunities for serving up a gourmet popcorn bar.
Movie night:

 

Of course, a popcorn bar is a must-have if you're hosting a movie night. Give your guests something to snack on that's a bit more exciting than traditional buttered movie popcorn by laying out a full spread of flavored popcorns, mix-ins and toppings. You can even go all-out and decorate the bar to fit the theme of the evening's featured presentation!

Birthday party:

 

Want to make your birthday party memorable? Go the extra mile with a gourmet popcorn bar for your guests to enjoy. Partygoers of all ages will love mixing and matching various popcorn flavors and toppings between party games. As a bonus, personalized popcorn goodie bags make excellent party favors.

Graduation party:

 

The highlight of every graduation party is the graduate and their accomplishments, but the food is a close second. Make your graduation stand out by setting up a popcorn bar full of fun flavors for guests to graze on while checking out old pictures of the grad, socializing and reminiscing. With a gourmet popcorn bar decorated to the nines, your graduation party will be top of its class.

Wedding:

 

Dancing the night away can make wedding guests hungry. Keep your wedding guests full and fueled up to dance by offering a gourmet popcorn bar at your reception. Guests will love having a late-night snack, and leftover baggies of popcorn make for cute wedding favors.

Bridal or baby showers: 

A gourmet popcorn bar is the perfect, light snack for an afternoon bridal shower or baby shower. Your guests will love combining popcorn flavors and toppings while celebrating the bride- or mother-to-be. You can also keep guests well-fed and entertained by having them guess the number of popcorn kernels in a jar.
Order Bedford Candies Gourmet Popcorn for Your Popcorn Bar!
Bring your popcorn bar ideas to life with gourmet popcorn from Bedford Candies. Our signature gourmet popcorn flavors are always homemade and fresh-popped, so you can be sure you're serving your guests the best. We offer a wide variety of savory and sweet popcorns so you can find the perfect flavor for everyone's tastes.
To get started on crafting the ultimate popcorn bar, order your gourmet popcorn from Bedford Candies today.