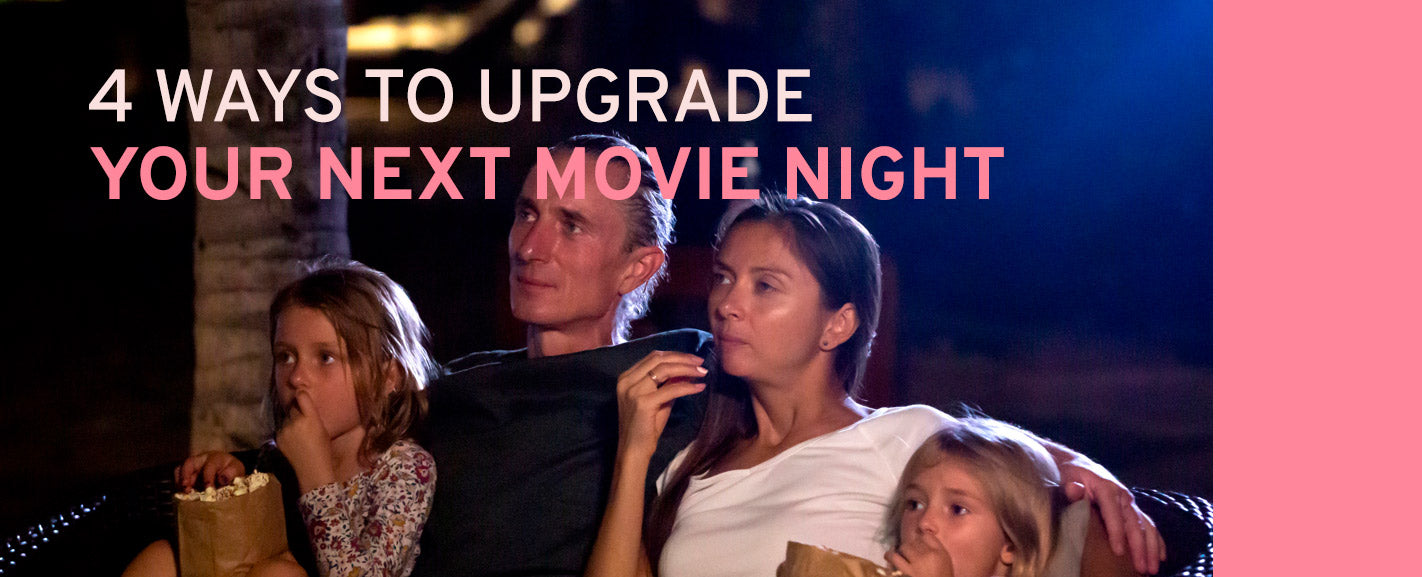 4 Ways to Upgrade Your Next Movie Night
As streaming services like Netflix and Hulu continue their meteoric rise in popularity, brick-and-mortar movie theaters continue to see a decrease in visitors. Gone are the days where people must drive to the local movie theater, buy a ticket and pay the same dollar amount as their ticket for snacks to see the latest movie. Instead, more and more households and families are choosing to have their movie nights in the comfort of their own homes.
Planning an at-home movie night is a fantastic way to spend quality time with family, friends and loved ones, and it can be low cost compared to going out to the movie theater. In its simplest form, all a home movie night needs is a movie, a place to watch it and some of your favorite snacks and drinks for viewing. 
The beautiful thing about at-home movie nights is they can be as simple or extravagant as you want to make them! Here, we'll discuss some things you can do to upgrade your next at-home movie night for all involved.
1. Flavored Popcorn
When it comes to planning your next movie night, choosing the right snack to accompany the movie is an important decision to make. And when you're trying to decide on movie night snack ideas, popcorn is a crowd favorite. Popcorn makes a wonderful movie snack because it's easy to make and can be customized to your taste preferences. In movie theaters, butter and salt are the two main add-ins offered for customizing the popcorn to your liking.
One of the top advantages to having your movie night at home is you can get creative with the snack options you offer. If you want to keep it traditional with a popcorn snack but want to change up your flavors for an evening, consider buying or making your own flavored popcorn to munch on during the film. Popcorn flavors abound, with options including:
2. Comfy Seating
Another idea for enhancing your at-home movie night is ensuring  your seating is fit for maximum comfortability. Whether your favorite movie-watching spot is a recliner or the sofa, make sure it has ample padding and room to stretch your legs!
You could even create your own comfy seating. You can do this by grabbing your biggest and comfiest blankets, sleeping bags and pillows, then setting them out on the floor in front of the tv. Floor seating allows you to have more guests at your home movie night while also granting top-notch comfort to all of your attendees. 
3. A Screen Projector
Investing in or renting a screen projector is another great way to upgrade your next home movie night. Whether you have a large wall inside your home that you think would be great to project onto or are looking to have an outdoor movie night, projector screens literally make every movie bigger and better!
A screen projector is a relatively inexpensive purchase if you plan on using it frequently, with models ranging in price depending on the quality of the projector. That being said, it may be more worth your while to rent one if your movie night is a one-time event.
4. The Perfect Movie
Picking the right movie is by far the most important part of any movie night. Any movie is acceptable for a solo movie night, but when it comes to picking the right movie for a group of people, here are a few things to consider:
Is it age-appropriate? 

If you have children or young teenagers attending your movie night, make sure you pick a movie that is rated G, PG or PG-13, depending on the age of the children.

Do you want new or old? 

While there is no right answer here, choosing between a movie that nobody has seen before versus a classic can be a tough decision. Whatever you do, make sure to take a group consensus before picking so everyone's opinions are heard. With that, you can get a feel of what the majority of people want to see.

Who picked last? 

If you have a recurring movie night for a group of people, try giving a new person the opportunity to choose the movie each time. This keeps everyone involved and excited for movie night because, even if someone isn't a fan of the current movie, they know they will eventually get a turn to pick!
As you're prepping your movie night ideas, consider getting a few film options lined up. That'll cut down on decision time if your guests have a shorter list to pick from.
Get Delicious Movie Night Snacks From Bedford Candies
Looking to upgrade your next home movie night with some tasty treats? Look no further than flavored popcorn from Bedford Candies. We have a wide selection of gourmet popcorn flavors that are sure to make your mouth water. You'll also find popcorn trios and build-your-own popcorn tins available, perfect for pleasing a movie night crowd. Our meltie gourmet popcorn is a particular favorite with its drizzle of milk chocolate and peanut butter for a sweet and salty combo.
Browse all of our gourmet popcorn flavors online, or stop by one of our physical locations and view our selection in person!