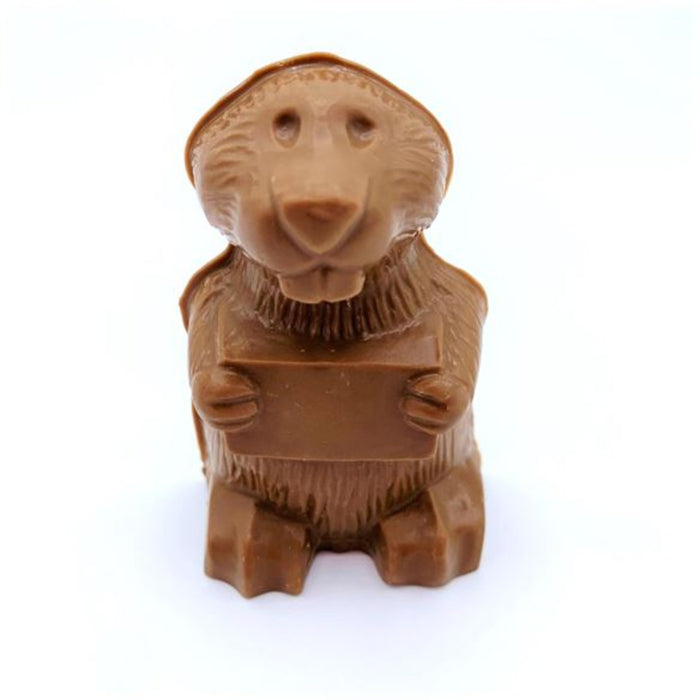 Groundhog
Sold out
Original price
$3.50
-
Original price
$3.50
1.75 OUNCE SOLID MILK CHOCOLATE GROUNDHOG MOLD
PRODUCT DESCRIPTION

If you've been looking for unique ways to celebrate Groundhog Day, or you want an excuse to bite into some decadent milk chocolate, this groundhog treat is a perfect choice. Available during the weeks leading up to February 2, our milk chocolate groundhog is sure to put a smile on anyone's face.

Grab enough groundhogs before they're gone, as they are a seasonal treat! Buy these tasty snacks from Bedford Candies today.

Surprise your kids: Our groundhogs are a wonderful and tasty way to start a Groundhog Day tradition of eating chocolate as you watch Punxsutawney Phil.
Give to your colleagues or clients: Who could resist the winning smile of this sweet guy?

Of course, one of the best ways to use your chocolate groundhog is as a special dessert. As with all our handmade gourmet chocolates, this groundhog goes well with hot beverages or a cool glass of milk.

Buy Unparalleled Chocolates From Bedford Candies. Since 1929, Bedford Candies has made chocolates, candies and more using time-honored techniques. All products, including our chocolate groundhog, are produced in small batches in our kitchens to ensure quality and perfection. Discover all the treats that our store has to offer today! You'll be amazed at the products you can have delivered right to your door. Be sure to check back often for seasonal items.
NUTRITION INFO