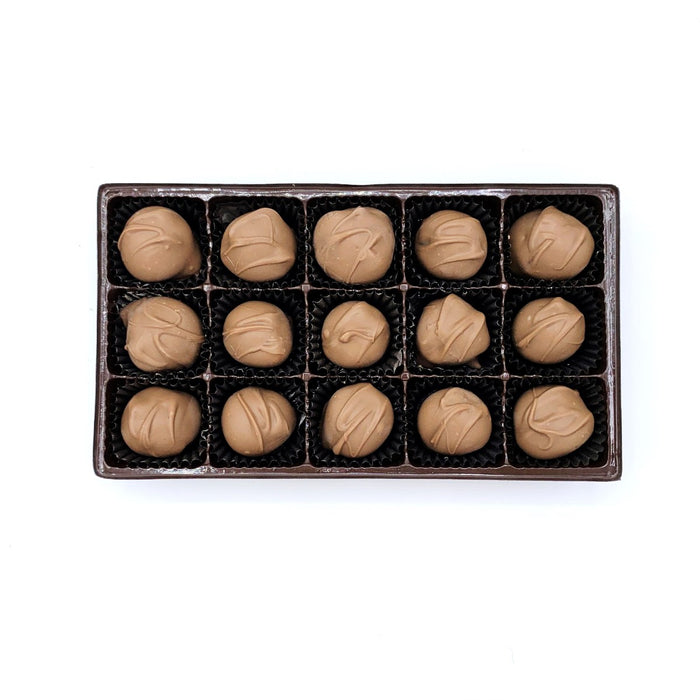 CORDIAL CHERRIES
Sold out
Original price
$14.00
-
Original price
$28.00
CHOCOLATE COVERED CORDIAL CHERRIES. MARASCHINO CHERRY DIPPED IN SUGAR FONDANT TO CREATE A LIQUID CENTER.
PRODUCT DESCRIPTION

The minute you sink your teeth into one of our cordial cherry chocolates, you'll experience a burst of our liquid cherry cordial flavor. Whether you're looking for a treat to indulge in or give to someone you love, these candies are sure to put a smile on your face.
Try Our Delicious Cordial Cherry Candy
At Bedford Candies, we make all of our chocolates from scratch using only the finest ingredients. The fondant will cordial over time turning into that clear liquid center, in combination with the maraschino cherry to make our delicious cordial cherries. Our cherries our dipped into our delectable gourmet milk and dark chocolates. These chocolates come in your choice of either an 8 ounce or 17.5 ounce box.
Give Cordial Cherries to a Loved One
At Bedford Candies, we are your one-stop shop for special occasions of all kinds. With our reasonable prices, you can find a candy that fits your budget.
Why Buy Chocolate Cordial Cherries From Bedford Candies?
Bedford Candies was founded back in 1929. Our candy shop has remained in the same family for over three generations. Our chocolates, which were some of the original treats we first offered in our shop, are still made in small batches and hand-dipped. Because of this, we can guarantee high-quality and flavorful finished results. What are you waiting for? Order our cordial cherries and experience our unforgettable flavors today.
NUTRITION INFO