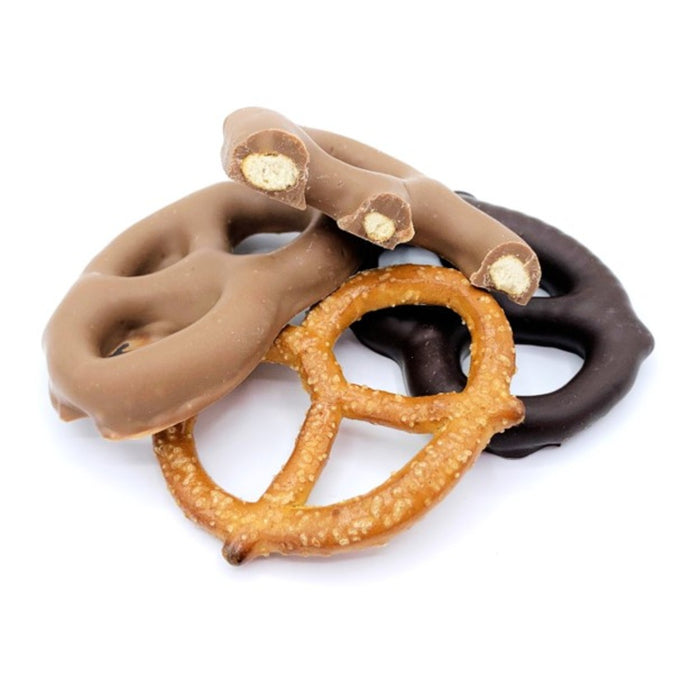 CHOCOLATE COVERED PRETZELS
Save up to

0

%
Save %
Original price
$7.50
-
Original price
$14.00
A SELECTION OF MILK, DARK, & WHITE CHOCOLATE COVERED PRETZELS
PRODUCT DESCRIPTION

Meet pure indulgence! This massive gift box marries the velvety smoothness of gourmet milk chocolate and the salty crunch of oversized pretzels.
Available for order in our milk or dark chocolate and perfect for holiday giving, our chocolate-coated pretzels are sure to be a sensation in your home or office. Treat yourself or a special someone today. Buy 6, 12, or 24 count chocolate-covered pretzels now!
For the Love of Chocolate and Pretzels
No one's quite sure when the idea of bathing fresh pretzels in chocolate became a phenomenon we're just glad it did! Chocolate and pretzels go beautifully together, as the saltiness of the pretzels tempers the rich sweetness of the chocolate. Plus, the crunchy pretzels offer a nice balance with the melt-in-your-mouth quality of handmade chocolate.
If you've been looking for a treat to keep in your home or give away, you'll be pleased with this bag of 6,12, or 24 chocolate-covered pretzels. Don't be surprised if you end up reaching for them as a quick snack or indulgent dessert. Pretzels make a perfect gift for neighbors, friends, relatives, coworkers and clients. Bedford Candies: Serving Gourmet Chocolates and More Since 1929
After almost a century of chocolate-making experience, we know how to get milk chocolate right! At Bedford Candies, all the chocolate we make starts with wholesome ingredients. That way, we can be sure that the finished product will live up to our high standards.
You can be sure that we create all chocolate products in small batches in our kitchens. We're sticklers for detail, which is why we dip our chocolate-covered pretzels by hand. Taste the difference that care and expertise provide!
Want to send chocolate-covered pretzels to someone special on your gift list this holiday season? No problem. We'll be happy to deliver smiles in the most delicious way possible right to their door!
NUTRITION INFO