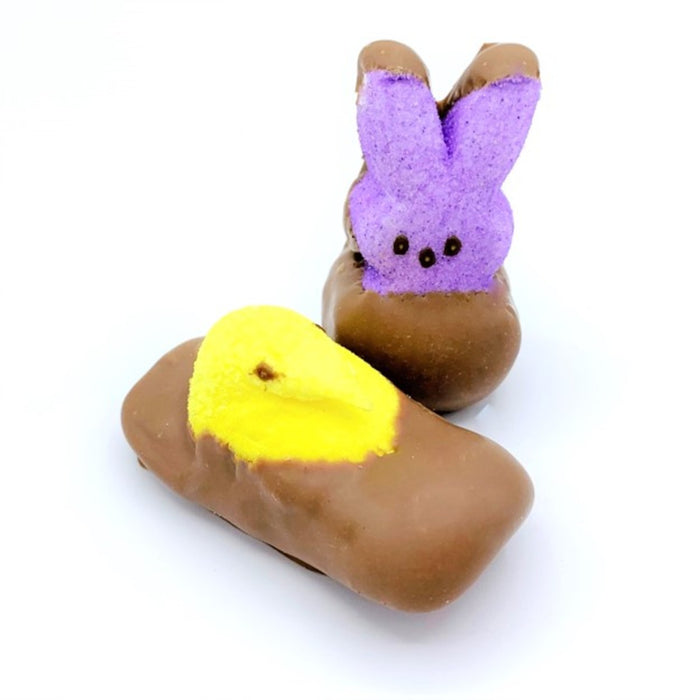 Chocolate Covered PEEPS
Sold out
Original price
$1.50
-
Original price
$1.50
SWEET MARSHMALLOW PEEPS DIPPED IN GOURMET CHOCOLATE.
*SHAPE & COLOR MAY VARY.
PRODUCT DESCRIPTION

PEEPS have been an Easter staple for decades, delighting both children and adults with their vibrant colors, adorable shape and sweet taste. At Bedford Candies, we've taken this iconic Easter candy and put our own spin on it. Get ready to celebrate this holiday season with a chocolaty marshmallow treat you won't be able to resist. Our Chocolate-Covered PEEPS To make our seasonal chocolate-covered PEEPS, we start with our homemade chocolate. We use the finest, freshest ingredients and mix it up in small batches to monitor the quality and ensure a smooth, creamy finish. Then, we hand-dip each PEEP into the chocolate. You'll be able to choose from milk, dark and white chocolate PEEPS. The colors and shapes of your PEEPS will vary, so each treat is unique. Treat Yourself or Someone You Love to Chocolate-Dipped PEEPS If you are looking for something sweet to add to your Easter basket or display, these eye-catching marshmallow treats will make the perfect addition. You'll also find that chocolate-covered PEEPS make the perfect gift for your friends, family and co-workers. Whether you are buying them for yourself or someone you love, we've made our ordering process simple from start to finish. We have a friendly customer service team ready to help if you have any questions. We can handle all your wrapping and packaging for you, and we'll even include a personalized note if you'd like. With shipping services available to any location in the United States, you'll be able to surprise anyone you know with a fun Easter treat. Celebrate This Easter Season With PEEPS Dipped in Chocolate From Bedford Candies Bedford Candies has a wide selection of homemade treats, including plenty of seasonal options. This Easter, try our twist on a classic candy by visiting one of our two retail locations or ordering our chocolate-covered PEEPS online.
NUTRITION INFO