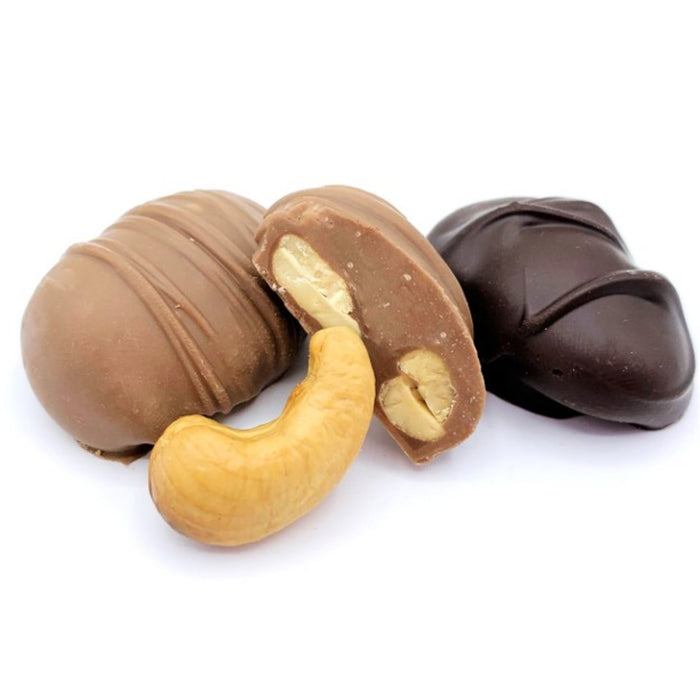 CASHEWS
Save up to

0

%
Save %
Original price
$13.00
-
Original price
$26.00
MILK OR DARK CHOCOLATE COVERED JUMBO CASHEWS
PRODUCT DESCRIPTION

If you've been searching for a sweet and savory treat you can enjoy anywhere, you'll want to try our chocolate covered cashews. Each bite delivers the perfect flavor combination of salty and sweet. These cashews are addicting, and you'll have a hard time eating just one!
About Our Chocolate Covered Cashews
At Bedford Candies, we still make our gourmet chocolate treats the old-fashioned way. We make them in small batches and dip every one by hand. This ensures that you can enjoy a quality treat that is both fresh and flavorful.
We dip whole jumbo salted cashews into chocolate for the perfect finishing touch. Best of all, though, our milk chocolate and dark chocolate cashews taste as good as they look.
Choose from our 1/2-pound or 1-pound option and get ready to indulge in a decadent treat.
Give the Gift of Gourmet Chocolate-Covered Cashews
Our gourmet chocolate-covered cashews make the perfect gift for all kinds of special occasions, events and holidays. Bedford Candies offers reasonable prices and great customer service so that giving your family, friends and co-workers homemade treats is an enjoyable experience.
Best of all, you won't have to worry about wrapping and delivering your gift our team will take care of that for you. If you'd like to include a personalized note, we can add that for you as well.
Why Choose Chocolate Covered Cashews From Bedford Candies?
At Bedford Candies, we opened our first candy shop in 1929. Over the years, we've grown and expanded our product offerings, but we still focus on precision, quality and novelty with each batch we create. Whether you order from our store or online, you won't find mouthwatering treats such as ours anywhere else.