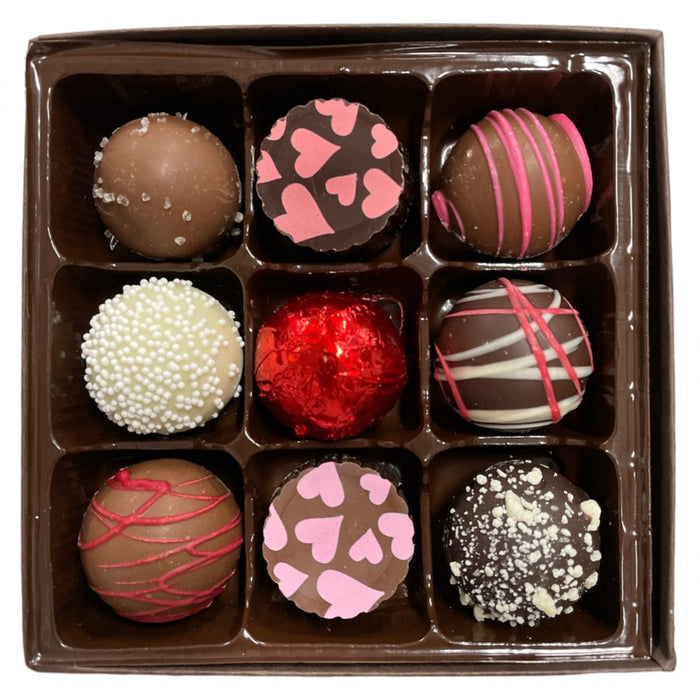 Assorted Sweetheart Truffle Box - 9 Piece
Sold out
Original price
$9.00
-
Original price
$9.00
AN ASSORTMENT OF PINK & RED VALENTINE FLAVORS OF CHOCOLATE TRUFFLES.
PRODUCT DESCRIPTION

When you want to say "I love you" on February 14, say it with gourmet chocolate from Bedford Candies.




Our nine-count Valentine's truffle box includes an assortment of chocolate-coated confections. These aren't your ordinary truffles! Taste the quality and superior ingredients that go into every piece.




Buy this thoughtful gift for your sweetheart today. It's only available for Valentine's Day orders, so make sure to grab this bestseller right away. (And don't be afraid to pick up a box for yourself, too!)




What Are Chocolate Truffles?

You've probably seen truffles advertised in plenty of places before. What are these little chocolatey gems, though?

Truffles start with a cocoa confection base that looks somewhat like fudge and is pliable enough to be shaped into little balls. The confection balls can then be hand-coated with any type of topping, including gourmet chocolate.

One of the biggest benefits of buying and giving Valentine's truffles like ours is that no two are exactly alike. You'll always get a one-of-a-kind box of our best truffles.




Buy Delicious Truffles From Bedford Candies

When Bedford Candies opened its doors in 1929, the company's goal was to make mouthwatering chocolates and candies using time-honored techniques. In almost 100 years, we have kept this same approach.

Of course, Bedford Candies has added plenty of sweets and other treats to our selection of products over the years, including our exclusive line of gourmet popcorn. However, we've never wavered from our commitment to doing things the old-fashioned way. You'll be able to taste the difference in quality with every bite of our candies and chocolates.

This Valentine's Day, do something a little different for the person you love. Buy a box of hand-dipped, gourmet chocolate-covered truffles. It's the perfect way to show your affection!
NUTRITION INFO