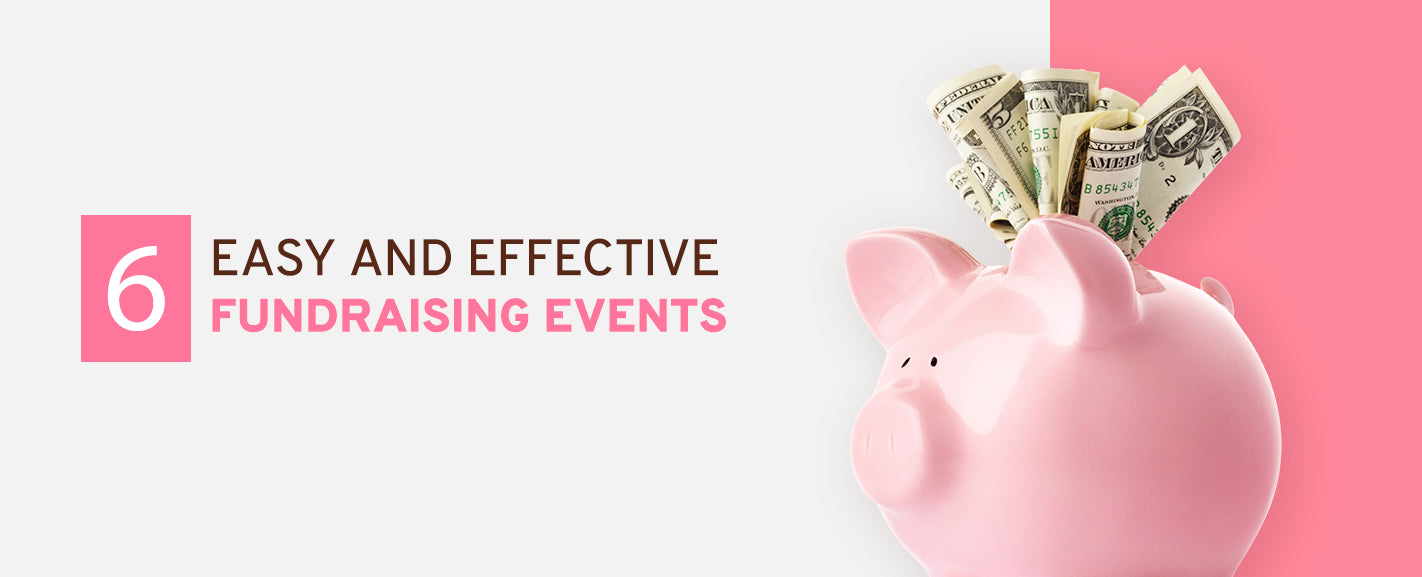 6 Easy and Effective Fundraising Events
If you're in search of good fundraising ideas, you're in the right place. Hitting a high target with fundraising can be intimidating, but snack fundraising is a classic route where everyone gets something from giving money to a cause or organization.
There may be a lot of pressure now, but choosing the best fundraising event can give your organization a boost, whether you're planning for an event further out or are in search of funds in a pinch.
1. Movie Night
Everyone loves a movie night — especially fundraising organizers. Hosting a movie night is an easy fundraising idea that can be a lot of fun for everybody involved.
Depending on the amenities available to you, a movie night can also be an affordable way to raise money. Finding a movie to show is easy with access to a streaming service. About 78% of consumers in the U.S. have at least one streaming service subscription, so check around your organization for someone who is willing to share their account for one night.
You can organize a themed movie night around specific events or times of year, opening nearly endless possibilities for a recurring fundraiser.
Things to consider: Selling tickets beforehand will give you a better idea of how many people will be attending. It can also help you prepare some snack fundraising to go with your movie night. If you can host the event in a venue that costs your organization little to no money, consider pricing the tickets higher to include popcorn or chocolates with each admission.
2. Pop-up Popcorn Sale
In recent years, pop-up popcorn sales have been gaining popularity as a food fundraising idea. Gourmet popcorn is one of those things people might not go out of their way to buy because they don't realize they want it until they see someone else with it. 
If you choose to set up a booth selling premade gourmet popcorn instead of popping the corn yourself, ensure you don't buy too much or too little. Ideally, your supply will sell out by the end of the event, but you don't want to get stuck with extra bags.
Things to consider: If you're setting up somewhere to make fresh popcorn, be aware of regulations around food sales in your area. If you're selling at an event, be sure to ask permission from the organizer.
3. Chocolate Sale
Chocolate is many people's favorite sweet indulgence, making it an enduringly popular and successful fundraising idea. 
For a reliable approach to selling chocolate, you can plan your fundraiser around pre-orders. Sellers can raise funds by bringing their paper sheets into the office, school, family gatherings or events. If you're in a crunch, you can order chocolate in bulk to sell at a specific event or by a particular deadline.
Things to consider: If you're opting to sell chocolate through pre-orders, be sure to get each buyer's contact information. When setting up a booth at an event, try to secure your spot early so you can get a prime position that will attract high visibility and plenty of foot traffic.
4. Holiday Candygrams
Candygrams have long been a staple around the holidays. They're a sweet way to let your friends and family know you're thinking of them. They're also a way to spread joy and raise money at the end or beginning of a year.
When selling candygrams, you can offer various chocolates and candies to attach personalized messages to. You can do this type of fundraiser in your office, school or even in your neighborhood, but be sure to plan your delivery carefully.
Things to consider: For the most efficient candygram fundraiser, be sure to collect all the contact information for the buyer and recipient. That way, you'll ensure the correct person receives the gift and sees who it's from.
5. Holiday Gift Bundles
Holiday gift bundles are a step up from candygrams, and make a perfect holiday gift for the hard-to-shop-for people in your life who have everything. Gift bundles including gourmet chocolate, popcorn and other sweets tend to be thoughtful and memorable presents most people wouldn't typically buy for themselves.
This food fundraising event also provides an excellent opportunity to raise funds for a particular cause. Volunteers can put together gift bundles, offering a fun bonding experience for your fundraising team. Holiday gift bundles meet people's desire for unique gifting ideas during the season of giving, while bringing a memorable flair to your fundraising.
Things to consider: Be sure to organize your holiday gift bundles' delivery before rolling out your fundraiser. If you're building baskets, be sure you can deliver them to each recipient's location — whether that means shipping baskets in the mail or dropping them off at doorsteps. Be sure to get the recipient's complete contact information.
6. Willy Wonka "Golden Ticket"
You don't need a fanciful candy factory to pull off a Willy Wonka-style "golden ticket" fundraising event. This idea is an effective way for your organization to raise money.
Your "golden ticket" can be a glamorous, high-end prize like an all-expenses-paid vacation or backstage passes to a concert. Or, you could keep it smaller and more community-based, such as a spa retreat, one night's stay at a locally owned hotel or a complimentary dinner for two at an upscale restaurant.
This fundraising event is exciting because it provides everyone an equal chance of winning the grand prize. You can hide the "golden ticket" in an item you sell at a one-time event or pre-sell and do deliveries.
Things to consider: You'll need to sell and distribute prize-winning packages strategically, so people keep purchasing until you've sold all the products. Having the first box of chocolates be the winner is anticlimactic and may discourage people from buying the rest of your inventory.
Let Bedford Candies Help You Make Your Next Fundraiser a Smash Hit
Bedford Candies can supply the perfect gourmet chocolate or popcorn for your fundraising event. We've been making homemade candies since 1929. We've perfected our products and continue to make every batch with the same commitment to quality as we did back then. If you want to try your hand at food fundraising, consider buying our delicious products to make your fundraising event memorably sweet.
Our gourmet popcorn trios make the perfect selection for a popcorn fundraiser. And our gourmet chocolate assortments always make a great chocolate treat! Contact us today to learn more about how our fantastic products can make your next fundraising event the best you've had yet.